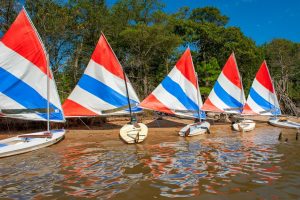 Sunfish 200
Rehoboth Bay is ideally suited to small boat sailing like not many other places on the East Coast. With consistent wind, little to no current and relatively shallow water, we enjoy an inherently safe sailing location. RBSA is located on a clean sandy beach with only a ½ mile of land between us and the Atlantic Ocean, thus aiding in consistent thermal breeze development. At Rehoboth Bay Sailing Association we have enjoyed particularly beautiful sailing conditions for over 40 years.
If you are a novice sailor, Rehoboth Bay Sailing Association is the place for you. Our Sailing School has been in existence non-stop since RBSA was founded over 40 years ago.
The roots of Sunfish Fleet 200 go back to the beginning of The Rehoboth Bay Sailing Association. Looking for an easy to handle and maintain boat to teach the children of Club members to sail in, Sailfish were selected. Of course the kids quickly progressed, and soon a Sailfish Racing fleet was established to help hone there skills even more. When Sunfish were introduced, the Club naturally embraced them and to this day remains the back bone of competitive racing at RBSA.
If racing is your thing, or even if you just want a concentrated way to improve your basic skills, RBSA is definitely where you want to be! Our Sunfish fleet goes way back and has hosted countless regatta's including Club, District and National Championships.